About Me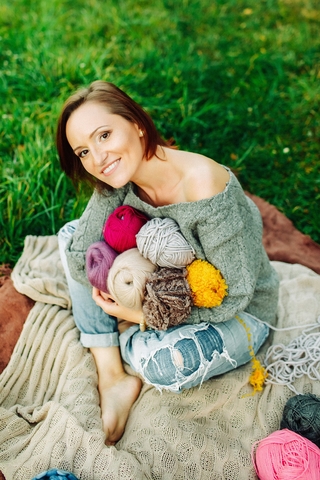 Hi everyone!
Welcome to my website. I am Broksa. This nickname has been with me so long that it has become my second name and probably everyone has already forgotten that actually it means Bruzynska Oksana. All who know Broksa know about handmade master from Lviv who creates clothes for babies. Yes, it's me. For many years that I've been working in this area, I've knitted a few hundred of outfits. Nowadays my products are mostly used in newborn photography. Together with photographers we create unforgettable photos which keep for parents a warmth of feelings all their life. Viewing these photos, I see how all results of my work, which stays behind the scene, become a part of something bigger than just clothes. Each costume turns a baby into a real fabulous hero, emphasizes his uniqueness, shows all love and care of parents to their child. I'm really proud of myself for being a part of these great feelings.
I'm happy that I have found an activity of the soul. When I became a mom and all my life was spinning around one small human I felt that I wanted to create something. At that time I took a skein of grandma's threads and started my first handiwork. Initially I was crocheting for my relatives, friends and their children. Afterward the idea of Broksa brand, website and commercial orders was born. I started in Lviv, then Kyiv and other Ukrainian cities. When newborn photography boom took place, I fully unleashed the potential of my talent. The geography of orders was expanded to Italy, Spain, Germany and even the USA. Now my kids perceive my work as a labour and they even don't guess that it is just a little hobby which started from their births and will continue forever!
Thanks to everyone who supports me, keeps track of my activity, works together with me and admires my works. You all inspire me to move forward and achieve new heights!
With love, Broksa!
Contacts
Please do not hesitate to contact me in case of any questions. I speak Ukrainian, Polish, English and Russian.
oksa@broksa.com
+380 67 597 68 28 (Ukraine)